Add The Meetings Concierge To Your Favorites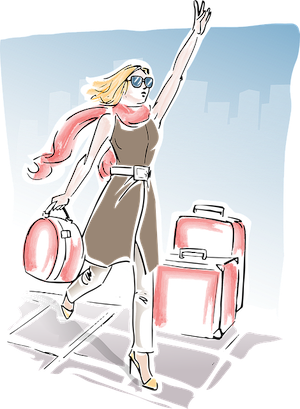 This is the perfect time to remind you The Meetings Concierge is a complimentary service and a top resource in the meetings industry for hotel site selection and contract negotiations.  
If you plan one meeting or multiple meetings per year, you know how much time it takes to find a hotel that meets all of your requirements. The biggest benefit our customers value is the time we save by doing all the hotel research for you & knowing all the questions to ask so that nothing gets overlooked. 
Add The Meetings Concierge to your Favorites!  You will want to have our knowledge & skills to guide you through the many steps it takes to find the right hotel for your group, anywhere globally.
Planning a meeting is like putting together a 1000-piece jigsaw puzzle. There are endless tasks to accomplish.  We help you find answers to every question you need to know. Here are a few:
Where we are going?  

What hotel, what city, what state, what country?  

What day, what month, what year?  

How many guest rooms and suites per night?

Meeting and banquet requirements?

Seating styles at each event?

Start and end times for each function?  

A hotel that meets my budget? 

What is my budget?  

How do I calculate and figure out a budget?  

How much is this going to cost our company?

Why things cost what they do?
Before we present options to you, there are a multitude of questions we ask hotels to be sure you are aware of every minute detail; planning successful meetings is all about the minute details.  Some examples are:  
Are all restaurants and bars open and what are the hours?

Confirm the fitness center and spa hours?

What are the start/end hours of room service?

Does the hotel have any planned renovations taking place over my meeting dates?

Are any of our direct competitor already confirmed over the same dates? (provide names so hotel knows who they are)

Any street repairs or closures surrounding the hotel or close by?

Are there any major conventions/sporting events taking place in the city over the dates of my meeting? (could make it challenging to air/ground transportation, group dining)
The Meetings Concierge negotiates all contract terms and meeting expenses to help save your organization from unnecessary spending!  You will appreciate our experience & expertise to negotiate a cost-saving and protective hotel contract! We're tough negotiators, never overlooking any cost item or opportunity to pay less and add value.  
Before we pass a contract on to you for signature, we have combed through it with a fine tooth comb, and likely sent it back and forth to hotels for revisions that benefit you! 
After your organization and the hotel have both signed the agreement, you work directly with the hotel's conference service manager.  Together you two fine-tune every detail for a well-planned event that comes off without a hitch. We are always available to you, even when you are onsite at your event, should something take place and you need our experienced hotel knowledge to guide you.  
The Meetings Concierge is a priceless resource when it comes to planning meetings. Don't face it alone when you have The Meetings Concierge to lead you and help you be a shining star to your boss, organization and your guests, at no cost to your organization.
"I was referred to Nancy and Leeann at The Meetings Concierge.  They were so good at getting hotel availability spreadsheets to me that I got my Board to select a hotel within 3 days of getting the spreadsheets, and I was able to turn the contract (which included everything I asked for and then some) around within 4 days of receiving it.  They are a joy to work with & I'll sing their praises to everyone I know."  
AlVerta Harty, Annual Meeting Coordinator 2019, CA State Association of Parliamentarians
"I know whoever tries your service will realize what a time saver and great hotel contract negotiator you are!  You really saved your client a bunch of money on items you negotiated on their behalf.  Most meeting planners don't dig as deep as you did and persevere to get us to come down on our pricing and contract terms.  I had fun working everything out with you!"
Marilin Ubiera, Senior Sales Manager, Millennium Broadway Hotel