Hospitality Goes High-Tech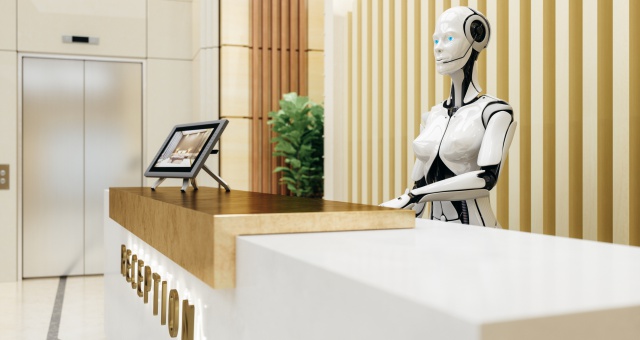 How Robots are Changing the Hotel Industry
There is a fast-growing trend happening in the hotel industry so expect to be greeted soon by a robot instead of a human when you check in to a hotel.  Robots are being employed by properties worldwide to do everything from reduce long check in lines, to deliver towels or even room service.  Because robots are programmable machines that can automatically execute actions in the service industry; expect this trend to become a reality anywhere you travel.
Here are 8 ways robots are advantageous to the hotel industry:
Never gets tired or needs a break.

Won't call in sick, be late for work, or have to leave early.

Salary or benefits don't have to be paid.

Jobs get done faster & with more consistency and accurate delivery time.

Check-in or check-out guests in seconds avoiding long lines at the front desk.

Programmable to speak several languages.

Customized to deliver luggage, towels even room service.

Available to work 24-7, 365 days a year.
There is a hotel chain in Japan, Henn-na Hotels, where the entire staff are robots, including the desk agent who checks you in.  And Hilton Hotels robots are named Connie, and she roams the lobby greeting guests and asking if she can help check them in, or provide any other amenities they would like delivered to their room.  Also, robots can be programmable to speak several languages making a great first impression for visiting guests from around the world. Although the human touch can never replace a machine, hotels are already making huge strides to become more efficient in today's instant gratification world. 
It's human nature to resist change as there is lack of trust that comes from the unknown and unfamiliar.  Although it is true robots are replacing jobs that humans have had, robots are helping hotels operate more efficiently at lower costs which is the goal of every corporation.  And as time has told over centuries, there will always be jobs robots could not replace such as a doctor, or special education teacher and an aerospace engineer. In the words of John F. Kennedy, "those who look only to the past or present are certain to miss the future".  Get ready to be greeted by a robot at your next hotel stay.